Vertex Sphere (Encore Sphere) Contact Lenses
Regular Price:
€35.99

*

per box
Manufacturer:
CooperVision
Type:
1-2 Week Disposable
Contains:
6 Lenses per Box
Buy More & Save More - Vertex Sphere (Encore Sphere) only €31.99 at euroLens
Buy 4+
@ €31.99

*

per eye
per box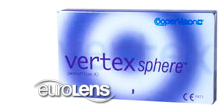 Enter Prescription
Need Prescription Help?

Prescription Information:
OD

right eye

OS

left eye

Brand name

eg. Acuvue

BC / Base Curve

a number between 8.0 and 10.0

DIA / Diameter

a number between 13.0 and 15.0

Power / Sphere / Rx

a number between -20 and +20
In Addition for astigmatic patients:
Cylinder

a number between -4.00 and +4.00

Axis

a number between 0 and 180

Cylinder and Axis are usually separated by a x
For Multifocal, Bifocal lenses or Presbyopia:
"Addition" or "add" is usually preceded by "+" or is listed as "low", "mid" or "high" depending on the lens manufacturer.
Product Information:
Vertex Sphere (Encore Sphere) are weekly disposable contact lenses manufactured by CooperVision. Vertex Sphere (Encore Sphere) offers outstanding comfort, handling and eye health with a convenient replacement schedule. The advanced optics of Vertex Sphere (Encore Sphere) lets you enjoy an unsurpassed level of visual quality. Vertex Sphere (Encore Sphere) contact lenses are manufactured using patented UltraSync technology, a process that produces a perfect edge on every lens. This lens design provides more stability and less rotation, ensuring that vision and comfort are consistent with each new pair.
Vertex Sphere (Encore Sphere) lenses are tinted for ease of handling and will not change the color of your eye. The tint is simply designed to facilitate locating the contact lenses in solution.
We at euroLens guarantee your Vertex Sphere (Encore Sphere) contacts (manufactured by CooperVision) to be 100% exactly as your optician, optometrist or ophthalmologist prescribed. Take advantage of our Lowest Price Guarantee (as low as €31.99) and buy your Vertex Sphere (Encore Sphere) contact lenses online from our safe and secure web site. The whole order process should take a few minutes. But if you encounter any difficulties at all, we'll be happy to take your order by phone. When you want fast, friendly service at great prices, we want you to think of euroLens.
Vertex Sphere (Encore Sphere)

Reviews