Acuvue Oasys for Presbyopia Contact Lenses
Regular Price:
€43.77

*

per box
Manufacturer:
Johnson & Johnson
Type:
Bifocal Lenses
Contains:
6 Lenses per Box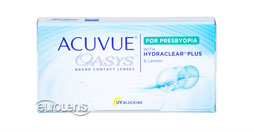 Enter Prescription
Need Prescription Help?

Prescription Information:
OD

right eye

OS

left eye

Brand name

eg. Acuvue

BC / Base Curve

a number between 8.0 and 10.0

DIA / Diameter

a number between 13.0 and 15.0

Power / Sphere / Rx

a number between -20 and +20
In Addition for astigmatic patients:
Cylinder

a number between -4.00 and +4.00

Axis

a number between 0 and 180

Cylinder and Axis are usually separated by a x
For Multifocal, Bifocal lenses or Presbyopia:
"Addition" or "add" is usually preceded by "+" or is listed as "low", "mid" or "high" depending on the lens manufacturer.
Product Information:
Acuvue Oasys for Presbyopia features Stereo Precision Technology, a unique optical design that works with your eye's natural depth of clear focus. So you can enjoy crisp, clear vision near, far and in-between, across variable lighting conditions. And with patented Hydraclear Plus technology built in, you'll feel almost like you're not wearing lenses at all – even in environments that might dry out other lenses, such as long hours in front of a computer, on an airplane, or in an air conditioned or heated room.
We at euroLens guarantee your Acuvue Oasys for Presbyopia contacts (manufactured by Johnson & Johnson) to be 100% exactly as your optician, optometrist or ophthalmologist prescribed. Take advantage of our Lowest Price Guarantee (as low as €43.77) and buy your Acuvue Oasys for Presbyopia contact lenses online from our safe and secure web site. The whole order process should take a few minutes. But if you encounter any difficulties at all, we'll be happy to take your order by phone. When you want fast, friendly service at great prices, we want you to think of euroLens.
Acuvue Oasys for Presbyopia

Reviews