Biomedics 55 Premier Asphere Contact Lenses
Regular Price:
€14.59

*

per box
Manufacturer:
CooperVision
Type:
1-2 Week Disposable
Contains:
6 Lenses per Box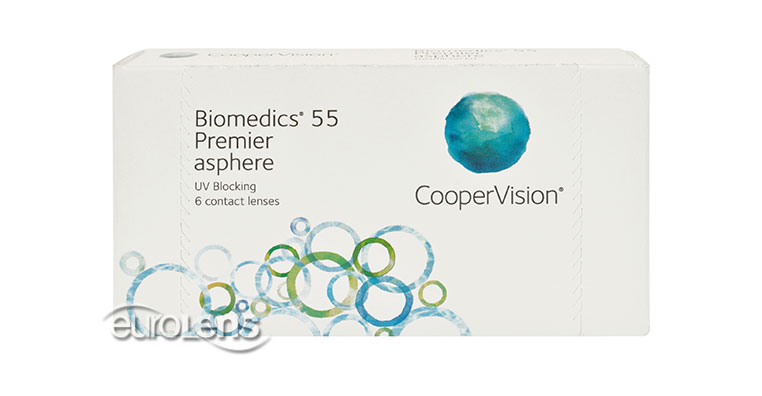 Enter Prescription
Need Prescription Help?

Prescription Information:
OD

right eye

OS

left eye

Brand name

eg. Acuvue

BC / Base Curve

a number between 8.0 and 10.0

DIA / Diameter

a number between 13.0 and 15.0

Power / Sphere / Rx

a number between -20 and +20
In Addition for astigmatic patients:
Cylinder

a number between -4.00 and +4.00

Axis

a number between 0 and 180

Cylinder and Axis are usually separated by a x
For Multifocal, Bifocal lenses or Presbyopia:
"Addition" or "add" is usually preceded by "+" or is listed as "low", "mid" or "high" depending on the lens manufacturer.
Product Information:
Biomedics 55 Premier contact lenses are store brand lenses sold at National Brand stores. They are sold under many different brand names however all the contact lenses are exactly the same. Your order will be filled with Ultraflex 2 Aspheric lenses. This is the brand most often sold by professionals. They provide clinically proven, superior performance in a two-week disposable contact lens. You can't beat the comfort, affordability and convenience of Ultraflex 2 Aspheric contact lenses. Wear these contact lenses every day for two weeks (remembering to clean them at night) and then replace them with a new pair. You get the crisp vision that comes with a fresh set of lenses, all at an affordable price.
Biomedic 55 Premier are 1-2 week disposable contact lenses manufactured by CooperVision. You deserve the best vision possible in a monthly lens. Biomedic 55 Premier delivers an aspheric optical design that is optimized to precisely focus light traveling through the contact lens and human eye. The result: enhanced image-quality, regardless of the amount of lens power correction required. Spherical aberration is the inability of a lens to focus light on a common point. With Biomedic 55 Premier, the ability to control aberration is fully realized. They're an incredibly comfortable lens to wear, and a remarkably easy lens to handle.
Biomedic 55 Premier lenses are also sold under a number of store brands (including Ultraflex 55) specific to eye doctors and optical chains. All orders will be shipped as either Biomedics 55 Premier or Ultraflex 55.
We at euroLens guarantee your Biomedics 55 Premier Asphere contacts (manufactured by CooperVision) to be 100% exactly as your optician, optometrist or ophthalmologist prescribed. Take advantage of our Lowest Price Guarantee (as low as €12.76) and buy your Biomedics 55 Premier Asphere contact lenses online from our safe and secure web site. The whole order process should take a few minutes. But if you encounter any difficulties at all, we'll be happy to take your order by phone. When you want fast, friendly service at great prices, we want you to think of euroLens.
Biomedics 55 Premier Asphere

Reviews