PureVision MultiFocal Contact Lenses
Regular Price:
€84.82

*

per box
Manufacturer:
Bausch & Lomb
Type:
Bifocal Lenses
Contains:
6 Lenses per Box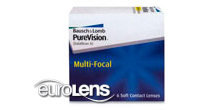 Enter Prescription
Need Prescription Help?

Prescription Information:
OD

right eye

OS

left eye

Brand name

eg. Acuvue

BC / Base Curve

a number between 8.0 and 10.0

DIA / Diameter

a number between 13.0 and 15.0

Power / Sphere / Rx

a number between -20 and +20
In Addition for astigmatic patients:
Cylinder

a number between -4.00 and +4.00

Axis

a number between 0 and 180

Cylinder and Axis are usually separated by a x
For Multifocal, Bifocal lenses or Presbyopia:
"Addition" or "add" is usually preceded by "+" or is listed as "low", "mid" or "high" depending on the lens manufacturer.
Product Information:
PureVision Multi-Focal are disposable contact lenses manufactured by Bausch & Lomb. The PureVision brand is also the first family of silicone hydrogel lenses made of AerGel, a unique material designed to deliver extraordinary comfort and health. Plus, unlike most contact lenses, PureVision lenses are for daily wear and are FDA-approved for up to 30 days of continuous wear.
We at euroLens guarantee your PureVision MultiFocal contacts (manufactured by Bausch & Lomb) to be 100% exactly as your optician, optometrist or ophthalmologist prescribed. Take advantage of our Lowest Price Guarantee (as low as €84.82) and buy your PureVision MultiFocal contact lenses online from our safe and secure web site. The whole order process should take a few minutes. But if you encounter any difficulties at all, we'll be happy to take your order by phone. When you want fast, friendly service at great prices, we want you to think of euroLens.
PureVision MultiFocal

Reviews





Perfect lenses
I am able to see like a 20 years old kid again!
Best thing to happen to me in years
I had tried contacts only once before about 3 years ago and they bothered me, didnt work well (used the mono vision type) and over all was not happy so stopped using them. Move ahead 3 years and my eyes are much worse and need to do something and didn't want to use glasses all the time so a friend told me about multi focal contacts. I tried different brands and different types but the purevision multi focals work GREAT. I can see just like they advertise, near, far and in between. My vision is almost like it was in my 20's and can wear the contacts over night if I like and they feel comfortable. I have kept them in as long as a week and they still felt good. best thing to happen to me in years!