Air Optix Night & Day Aqua Contact Lenses
Regular Price:
€42.48

*

per box
Manufacturer:
Alcon
Type:
Monthly Disposable
Contains:
6 Lenses per Box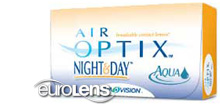 Enter Prescription
Need Prescription Help?

Prescription Information:
OD

right eye

OS

left eye

Brand name

eg. Acuvue

BC / Base Curve

a number between 8.0 and 10.0

DIA / Diameter

a number between 13.0 and 15.0

Power / Sphere / Rx

a number between -20 and +20
In Addition for astigmatic patients:
Cylinder

a number between -4.00 and +4.00

Axis

a number between 0 and 180

Cylinder and Axis are usually separated by a x
For Multifocal, Bifocal lenses or Presbyopia:
"Addition" or "add" is usually preceded by "+" or is listed as "low", "mid" or "high" depending on the lens manufacturer.
Product Information:
Air Optix Night & Day Aqua are monthly disposable contact lenses manufactured by Ciba Vision. Air Optix Night & Day Aqua are revolutionary lenses are highly breathable, allowing six times more oxygen through the lens than traditional soft lenses. Up to thirty days of continuous, natural vision means complete day-to-day freedom - no daily insertion and removal, no cleaning, and no lens-care product expense. They're so comfortable; you might even forget you're wearing them. Plus, you'll see clearly all the time, even when you get up for that midnight snack.
We at euroLens guarantee your Air Optix Night & Day Aqua contacts (manufactured by Alcon) to be 100% exactly as your optician, optometrist or ophthalmologist prescribed. Take advantage of our Lowest Price Guarantee (as low as €42.48) and buy your Air Optix Night & Day Aqua contact lenses online from our safe and secure web site. The whole order process should take a few minutes. But if you encounter any difficulties at all, we'll be happy to take your order by phone. When you want fast, friendly service at great prices, we want you to think of euroLens.
Air Optix Night & Day Aqua

Reviews





1 people found the following review helpful:
10 yrs later....
I have been wearing these lenses for more than 10 years now and have had absolutely NO problems. Occassionally I change them after about 25 days when I have been working in a dusty environment or swimming a lot, but other than that, I am totally reliant on them and hope never to have to change my brand! Many thanks to Ciba Vision for a great product.
Great for dry eyes
Great lenses!

I'm using these lenses for almost 10 years now (being 42 years old). I have dry eyes problem (film of tear does not hold over 4 seconds instead of 10-20 secs). With every other lenses, my view always became foggy in the evening, especially in closed places. These lenses are first, which solved problem perfectly.

I'm still taking them out every night to rest my eyes. Also low water content helps dry eyes problem a lot.

I recomend these lenses to all with dry eyes problem.
The ONLY contacts to wear!
I am 69 years old and have been wearing contacts for 23 years. I discovered Night and Day Aqua two years ago and I am with the rest of you who love these contacts and Air Optix.....I will never wear any other brand again! I am amazed that it took me so long to discover these... Better late than never!
Better than surgery
I was considering Lasik at some point because of the hassle of taking the lenses in and out every day, but the price and discomfort immediately following surgery dissuaded me. My eyes aren't that bad and I can function without glasses or lenses anyway. But with Air Optix Night and Day I can buy a lifetime of lenses for the price of Lasik, and I don't have to put up with the dry eyes and other side effects of surgery. I can barely even tell I am wearing lenses anyway.