1-Day Acuvue Moist Contact Lenses
by Johnson & Johnson
Type: Daily Disposable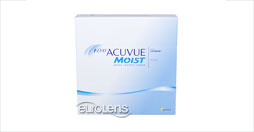 Enter Prescription
Need Prescription Help?

Prescription Information:
OD

right eye

OS

left eye

Brand name

eg. Acuvue

BC / Base Curve

a number between 8.0 and 10.0

DIA / Diameter

a number between 13.0 and 15.0

Power / Sphere / Rx

a number between -20 and +20
In Addition for astigmatic patients:
Cylinder

a number between -4.00 and +4.00

Axis

a number between 0 and 180

Cylinder and Axis are usually separated by a x
For Multifocal, Bifocal lenses or Presbyopia:
"Addition" or "add" is usually preceded by "+" or is listed as "low", "mid" or "high" depending on the lens manufacturer.
Product Information:
1-Day Acuvue Moist are daily disposable contact lenses manufactured by Johnson & Johnson (Vistakon). 1-Day Acuvue Moist give you a fresh start every day with a new, clean pair of lenses for the healthiest and most convenient way to wear contact lenses. 1-Day Acuvue Moist features Laceron, exclusive technology that locks in a moisture-rich ingredient for a fresh lens feeling and even more end-of-day comfort. One of a few daily disposable lenses on the market with UV-Blocking, each lens is precision crafted to provide exceptionally accurate vision. According to a new FDA-approved claim, 1-Day Acuvue Moist contact lenses worn on a daily disposable basis may provide "improved comfort" for patients with mild allergic discomfort and ocular itching.
1 Day Acuvue Moist lenses are tinted for ease of handling and will not change the color of your eye. The tint is simply designed to facilitate locating the contact lenses in solution. They also contain an inside-out "123" indicator to help ensure proper application/insertion.
We at euroLens guarantee your 1-Day Acuvue Moist 90PK contacts (manufactured by Johnson & Johnson) to be 100% exactly as your optician, optometrist or ophthalmologist prescribed. Take advantage of our Lowest Price Guarantee (as low as €64.75) and buy your 1-Day Acuvue Moist 90PK contact lenses online from our safe and secure web site. The whole order process should take a few minutes. But if you encounter any difficulties at all, we'll be happy to take your order by phone. When you want fast, friendly service at great prices, we want you to think of euroLens.
Price Comparison:
Package Size
Our Lowest Price
Retail Price
Your Savings

30

Pack
(

1

Month Supply)
€31.61

*

€41.96

*

€10.35

*

90

Pack
(

3

Month Supply)
€59.06

*

€91.22

*

€32.15

*
1-Day Acuvue Moist

Reviews





Great treat for eyes
After 30 years wearing hard contact lenses, I thought I could no longer wear them as my eyes were getting dry. My Optician suggested Johnson & Johnson 1 day Acuvue Moist. I have been wearing them every day since and that is 4 years ago.