Biofinity Toric Contact Lenses
Regular Price:
€46.51

*

per box
Manufacturer:
CooperVision
Type:
Toric Lenses
Contains:
6 Lenses per Box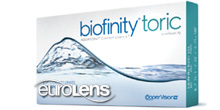 Enter Prescription
Need Prescription Help?

Prescription Information:
OD

right eye

OS

left eye

Brand name

eg. Acuvue

BC / Base Curve

a number between 8.0 and 10.0

DIA / Diameter

a number between 13.0 and 15.0

Power / Sphere / Rx

a number between -20 and +20
In Addition for astigmatic patients:
Cylinder

a number between -4.00 and +4.00

Axis

a number between 0 and 180

Cylinder and Axis are usually separated by a x
For Multifocal, Bifocal lenses or Presbyopia:
"Addition" or "add" is usually preceded by "+" or is listed as "low", "mid" or "high" depending on the lens manufacturer.
Product Information:
Aquaform is the technology behind the Biofinity Toric comfilcon A material that makes it wettable and is one factor that makes Biofinity such a comfortable lens. Aquaform is naturally wettable and establishes hydrogen bonds with water molecules holding water within the lens making the lens soft, wettable and resistant to dehydration and resistant to deposits.
We at euroLens guarantee your Biofinity Toric contacts (manufactured by CooperVision) to be 100% exactly as your optician, optometrist or ophthalmologist prescribed. Take advantage of our Lowest Price Guarantee (as low as €46.51) and buy your Biofinity Toric contact lenses online from our safe and secure web site. The whole order process should take a few minutes. But if you encounter any difficulties at all, we'll be happy to take your order by phone. When you want fast, friendly service at great prices, we want you to think of euroLens.
Biofinity Toric

Reviews





FINALLY!
Yes! I too had given up wearing contact lenses because of dryness and discomfort. I got a free trial pair of these babies from my optometrist and I am SOLD! I LOVE them! They just don't dry out! I can wear them all day long, and it doesn't even feel like I'm wearing them. I put them in first thing in the morning and they slide right in like jelly without the uncomfortable scratchy feeling I've always gotten from other contacts. They stay put really well, and they don't give me the tired feeling in my eyes by the end of the day. The optometrist told me they are much healthier for my eyes because they allow more oxygen to the cornea, and she said that the FDA has approved them for 6 nights of continuous wear (out on the 7th). I am also stoked that they are monthly contacts rather than 2 weeks like the other Torics I've worn in the past. I am SO GLAD there is finally a solution to the contact problems I always thought I'd just have to deal with if I wanted to go without glasses! These are the next generation-- normal contacts just can't even be compared to these. OH THIS IS SO GREAT! Thank you Coopervision!