Focus 1-2 Week Visitint - DISCONTINUED Contact Lenses
Regular Price:
€20.99

*

per box
Manufacturer:
Alcon
Type:
1-2 Week Disposable
Contains:
6 Lenses per Box
Buy More & Save More - Focus 1-2 Week Visitint only €18.99 at euroLens
Buy 3+
@ €18.99

*

per eye
per box
Discontinued
See below for details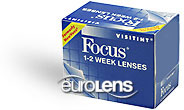 Enter Prescription
Need Prescription Help?

Prescription Information:
OD

right eye

OS

left eye

Brand name

eg. Acuvue

BC / Base Curve

a number between 8.0 and 10.0

DIA / Diameter

a number between 13.0 and 15.0

Power / Sphere / Rx

a number between -20 and +20
In Addition for astigmatic patients:
Cylinder

a number between -4.00 and +4.00

Axis

a number between 0 and 180

Cylinder and Axis are usually separated by a x
For Multifocal, Bifocal lenses or Presbyopia:
"Addition" or "add" is usually preceded by "+" or is listed as "low", "mid" or "high" depending on the lens manufacturer.
Focus 1-2 Week Visitint has been discontinued
CIBA VISION has discontinued the sale of Focus 1-2 Week Visitint contact lenses. This was one of the oldest products manufactured by CIBA VISION. They recommend replacing Focus 1-2 Week Visitint with newer technologies such as Air Optix Aqua. We will need your new prescription to fill your new contact lens order.

At euroLens we're committed to saving you money on your contact lenses. Federal law requires your eye care professional to provide you with your new prescription at the time of your eye exam. This is done to allow you to save money by purchasing your contact lenses from online retailers such as euroLens. You are under no obligation to order over-priced contact lenses from your eye care professional.

We look forward to filling your new contact lens prescription and continuing our money saving relationship with you.
Product Information:
Focus 1-2 Week Visitint are weekly disposable contact lenses manufactured by Ciba Vision. You'll love the freedom of crisp, clear vision, and the enhanced comfort of Focus1-2 Week replacement lenses. Wear the same pair every day - clean them every night for up to two weeks, and then replace with a new pair. Focus 1-2 Week Visitint lenses are conveniently packaged so you'll always have spare pairs.
We at euroLens guarantee your Focus 1-2 Week Visitint contacts (manufactured by Alcon) to be 100% exactly as your optician, optometrist or ophthalmologist prescribed. Take advantage of our Lowest Price Guarantee (as low as €18.99) and buy your Focus 1-2 Week Visitint contact lenses online from our safe and secure web site. The whole order process should take a few minutes. But if you encounter any difficulties at all, we'll be happy to take your order by phone. When you want fast, friendly service at great prices, we want you to think of euroLens.
Focus 1-2 Week Visitint

Reviews